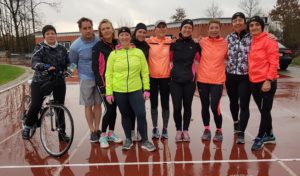 Dit weekend werden de brevettenlopen gehouden voor de start to run.
Zaterdag voor de lopers van 0 naar 5 km onder begeleiding van Erna en Christa en zondag onder begeleiding van Debby.
Ondanks de minder goede weersomstandigheden slaagde iedereen er in om de test af te leggen. Wij danken dan ook van harte de begeleiders voor de twee dagen.
De volgende start to run zal starten op dinsdag 26 maart. Infosessie zal doorgaan op dinsdag 19 of 21 maart.