NEW DATE FOR 2017 : 15 july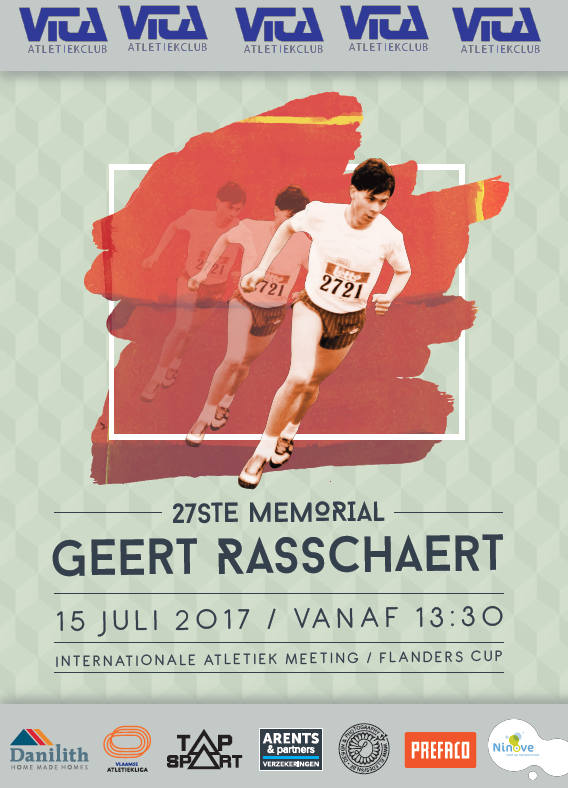 Memorial Rasschaert
PROGRAMMA / PROGRAM
Mannen / Men : 100m – 200m -400m -800m -1500m -5000m -110H – 400H
hoogspringen (high jump) – verspringen (long jump) – polsstokspringen (pole vault) – kogelstoten (shot put) – discuswerpen (discus throw)
Vrouwen / Women : 100m – 200m -400m -800m -1500m -3000st -100H – 400H
hoogspringen (high jump) – verspringen (long jump) – hinkstapspringen (triple jump) – polsstokspringen (pole vault) – kogelstoten (shot put) – discuswerpen (discus throw)
speerwerpen (javelin) – hamerslingeren (hammer throw)
TIJDSCHEMA / TIME SCHEDULE
Tijdschema is voorlopig en kan aangepast worden na afsluiten van de voorinschrijvingen.
Timetable is provisory and can be adapted after closing the registration of the athletes.
Tijdschema hierna / Timetable see hereby : 0715mgr
INSCHRIJVINGEN / REGISTRATIONS
NL:
Inschrijvingsgeld : € 5.00 bij voorinschrijving / € 10.00 daginschrijving.
Gelieve voor proeven vanaf 800m maar voor één proef in te schrijven.
ENG:
Registration fee : € 5.00. For Day registration € 10.00
For track events from 800m or higher please registrate for only one discipline. There is no problem to change for an discipline
PICK_UPS
Due to the difficult situation to pick up peaople at airports in Belgium we organise pick-ups in train station of Denderleeuw. There is a regular train link between brussels airport and Denderleeuw.
People arriving in Brussels South (tgv) can take a train to Denderleeuw (about 20min).