NEW DATE FOR 2017 : 15 july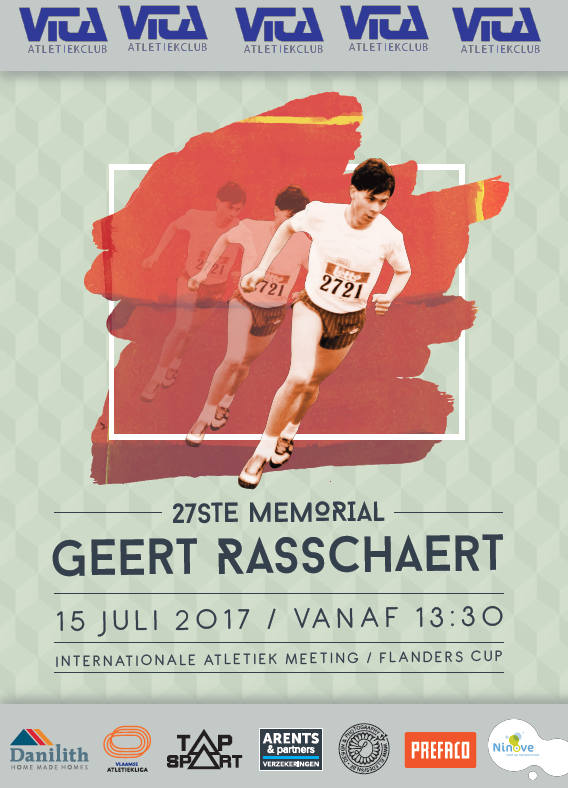 Memorial Rasschaert
PROGRAMMA / PROGRAM
Mannen / Men : 100m – 200m -400m -800m -1500m -5000m -110H – 400H
hoogspringen (high jump) – verspringen (long jump) – polsstokspringen (pole vault) – kogelstoten (shot put) – discuswerpen (discus throw)
Vrouwen / Women : 100m – 200m -400m -800m -1500m -3000st -100H – 400H
hoogspringen (high jump) – verspringen (long jump) – hinkstapspringen (triple jump) – polsstokspringen (pole vault) – kogelstoten (shot put) – discuswerpen (discus throw)
speerwerpen (javelin) – hamerslingeren (hammer throw)
TIJDSCHEMA / TIME SCHEDULE
Tijdschema is voorlopig en kan aangepast worden na afsluiten van de voorinschrijvingen.
Timetable is provisory and can be adapted after closing the registration of the athletes.
Nog geen voorlopig tijdschema beschikbaar / Provisory time schedule not yet available
INSCHRIJVINGEN / REGISTRATIONS
NL:
Inschrijven voor de Memorial Rasschaert zijn momenteel nog niet open.
Inschrijvingsgeld : € 3.00 bij voorinschrijving / € 6.00 daginschrijving.
Gelieve voor proeven vanaf 800m maar voor één proef in te schrijven.
ENG:
The registration form for the Memorial Rasschaert is not available yet.
Registration fee : € 3.00. For Day registration € 6.00
For track events from 800m or higher please registrate for only one discipline.
PICK_UPS
Due to the difficult situation to pick up peaople at airports in Belgium we organise pick-ups in train station of Denderleeuw. There is a regular train link between brussels airport and Denderleeuw.
People arriving in Brussels South (tgv) can take a train to Denderleeuw (about 20min).