ZATERDAG 22 JULI 2023
SATURDAY 22TH OF JULY 2023
SAMEDI 22 JUILLET 2023

The Flanderscup Memorial Rasschaert is a National Permit meeting recognized by World Athletics as a category E scoring points competition
Memorial Rasschaert
PROGRAMMA / PROGRAM
Mannen / Men : 100m – 200m -400m -800m -1500m -5000m -110H – 400H -3000st
hoogspringen (high jump) – verspringen (long jump) – polsstokspringen (pole vault) – kogelstoten (shot put) – discuswerpen (discus throw)
Vrouwen / Women : 100m – 200m -400m -800m -1500m -3000st -100H – 400H
hoogspringen (high jump) – verspringen (long jump) – hinkstapspringen (triple jump) – polsstokspringen (pole vault) – kogelstoten (shot put) – discuswerpen (discus throw) – hamerslingeren (hammer throw)
Wheelers : Men : 100m en 200m Women : 100m en 200m
TIJDSCHEMA / TIME SCHEDULE
INSCHRIJVINGEN / REGISTRATIONS / INSCRIPTIONS
NL:
Inschrijvingsgeld : € 10.00 bij voorinschrijving.
Gelieve voor proeven vanaf 800m maar voor één proef in te schrijven.
ENG:
Registration fee : € 10.00.
For track events from 800m or higher please registrate for only one discipline. There is no problem to change for an discipline
For special enquieries please contact vita@telenet.be or send us a message through 
Facebook
FRA:
Frais d'inscription : € 10.00
Veuillez seulemtent inscrire pour une épreuve pour les courses de distances (à partir de 800m)
MAP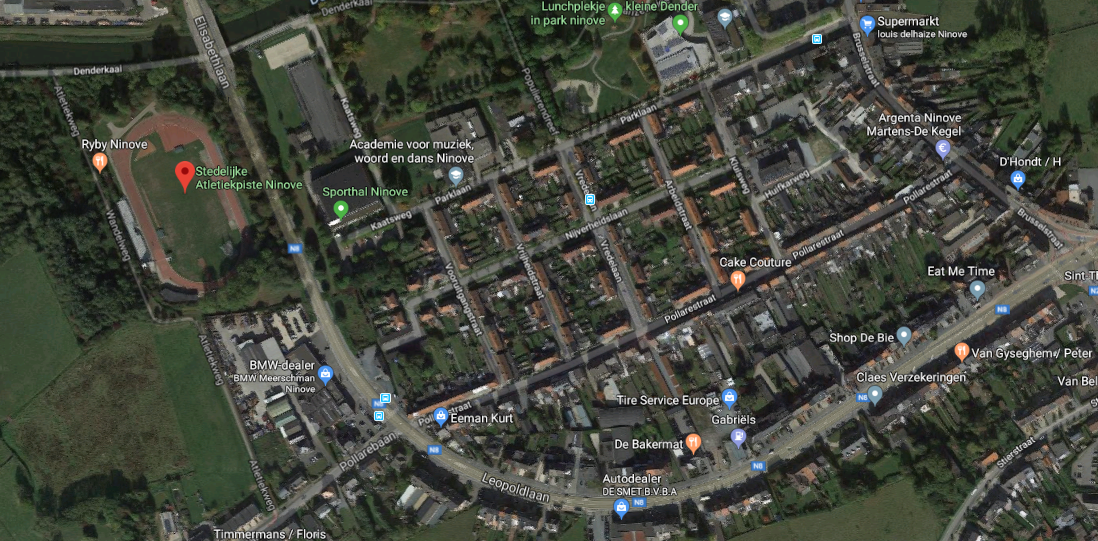 Het is niet mogelijk om naast of heel dichtbij de piste te parkeren. We raden aan om parking te zoeken aan de sporthal, het zwembad en de omliggende straten.
It is not possible to park alongside the track. We advise parking at the local sports hall ('Sporthal Ninove' and in the nearby streets, as well as on the parking of the public swimming pool 'De Kleine Dender Ninove')
Address closed to track: Parklaan Ninove
PICK-UP AT TRAIN STATION OF DENDERLEEUW
Due to the difficult situation to pick up people at airports in Belgium we organise pick-ups in train station of Denderleeuw.
On Friday there will be a shuttleservice between train station of Denderleeuw and hotel.
You can take on Brussels National airport (Zaventem) two trains an hour for Denderleeuw (13min and 24min after each hour).
Trainstation is at level -1 (arrivals at level 2).
It is about 40min train from the airport to Denderleeuw.
The shuttle is on demand.
You can warn the driver by Phone or sms.
Telephone numbers
Peter 00-32-495 598 765
Eddy 00-32-476 554 557
Please tell how many people you are and what time you arrive in Denderleeuw.
Please wait in the waiting hall of the trainstation.
It is about 15 to 20 min from train station to hotel.
You can give your departure time for sunday to the driver
People arriving in Brussels South (tgv) can take a train to Denderleeuw (about 20min).